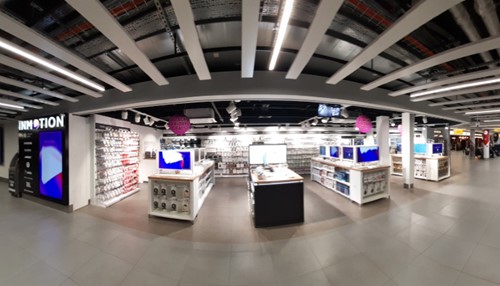 A brand-new store with exclusive brands and latest technology has opened at Aberdeen International Airport.
InMotion, the market-leading technology retailer in travel locations, owned by WHSmith, has  opened its new store at the north-easts biggest transport hub today (Thursday, November, 18).
Further to WHSmith's recent announcement that it has won all 30 technology stores across UK airports, this store will replace the Dixons Travel shop which announced earlier this year that it would close.
InMotion offers customers an extensive range of the latest technology products and accessories, to include headphones, mobile power, Bluetooth speakers, cameras and travel accessories.
The focus is on best-in-class customer service coupled with strong and trusted relationships with leading international brands, such as Apple, Bose, and Samsung.
There will be 10 jobs will be created at the InMotion store and includes a mixture of full-time and part-time roles
Prior to launching in the UK, InMotion is the market-leading digital accessories retailer across airports in North America with 117 stores in 43 airports.
Jemma Cumming, Commercial Manager at Aberdeen International Airport, said: "We are delighted to be welcoming InMotion to our airport giving our passengers the chance to buy the latest tech and travel accessories.
"We have a strong working relationship with WHSmith so we were delighted when they agreed to bring InMotion to Aberdeen.
"This will be a great addition to our terminal and compliments the work we have done to help our retail partners throughout the pandemic.
 "This will create 10 local jobs and we look forward to them joining the airport campus."
Andrew Harrison, Managing Director, WHSmith Travel commented: "We're delighted to be opening one of our first InMotion stores at Aberdeen International Airport.
"This new store will offer customers an extensive range of technology and electrical accessories to enhance their journey, complemented by live product demonstrations.
"The team look forward to welcoming new customers to the store over the coming weeks and months ahead."