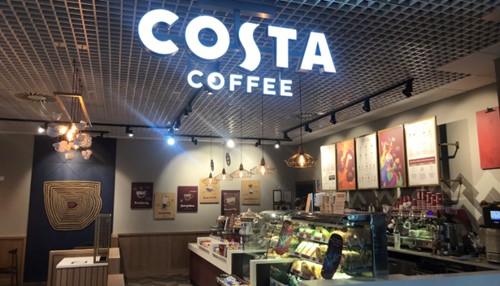 Costa Coffee has reopened at Aberdeen International Airport after being closed for 16 months due to the pandemic.
Following discussions with business partners at the north-east's major transport hub, the store will open today (July 9).
The reopening is another in list of outlets who are welcoming back passengers at Aberdeen International Airport.
Costa, like other retail partners, have put safety measures in store so passengers can visit safely. This includes signage to help passengers respect physical distancing.
It is the first airport Costa to be operated by WH Smith in the UK after the organisation took over the contract to run the popular coffee spot at Aberdeen International Airport. Five jobs have been created at the store.
Only recyclable cups will be used at the site to continue the organisations commitment to sustainability.
Jemma Cumming, commercial manager at Aberdeen International Airport, said: "We have been working hard at the airport with our business partners and delighted to see Costa open after 16 months.
"Our recovery from the pandemic will take longer but we are determined that our passengers will have more choice throughout our airport while maintaining their safety.
"We continue to support all our business partners with their reopening plans at our terminal.
"Everyone has been working non-stop and I want to thank every business at Aberdeen International Airport for their hard work and dedication."
Spencer Sheen, Business Development Director, WHSmith said: "We're delighted to be partnering with Costa Coffee to deliver a new retail offer for customers in Aberdeen Airport.
"As a key franchise partner for the nation's favourite coffee shop brand, we look forward to welcoming customers to the new Costa store, our first in a UK airport, with a great range of hot and cold beverages and food and a welcome space to relax."
Opened stores at Aberdeen International Airport now include;
World Duty Free
WH Smith
Boots
Distilling House
Northern Lights Lounge
Discover Aberdeen
Costa Coffee