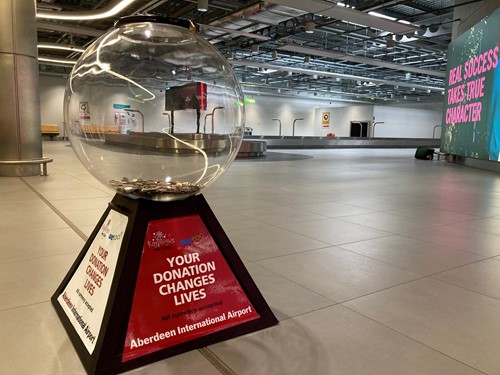 Kind-hearted travellers through Aberdeen International Airport have raised more than £3,000 for two charities.  
The fantastic amount was collected through the three collection globes positioned across the airport in which passengers can donate any left-over currency.
All monies raised through the globes is donated to charity partners Kayleigh's Wee Stars and We Too!
The total amount collected came from dozens of different global currencies including Croatian Kunas, Turkish Lira, Polish Zloty, Singaporean Dollars, South African Rands and Israeli New Shekel.
The top five currencies collected outside of British pound donations were:
The Euro
Omani Rial
Norwegian Krone
US Dollars
Danish Krone
Outwith the weird and wonderful currencies of the world, the globes also collected donations in pre-Euro currencies including Irish Punts and German Deutsche Marks.
Mark Beveridge, Operations Director at Aberdeen International Airport said: "On behalf of the airport, I want to thank all of our passengers for their generosity through our Collection Globes.
"We are thrilled £3,111 was raised and know how vital the funding is to our charity partners.
"If you are travelling through the airport and have leftover currency we know a donation will be greatly received."
Phionna McInnes, Chief Executive of We Too!, said: "The money raised will continue our work of empowering parents and carers of children with additional support needs.
"We want to thank every traveller who has donated big and small last year as this makes a huge difference for our families.
"We are delighted to also be carrying on our work with Aberdeen International Airport in 2023 and thank their staff for all the support so far."
Fiona Heinonen, CEO of Kayleigh's Wee Stars, said: "Through our partnership with Aberdeen International Airport we have already been part of huge events like the Aberdeen Runway Run.
"Passengers who have donated to the Collection Globes will help us provide support to families where there is a child with a terminal illness.
"We cannot thank you enough for your generosity."
A staff vote at the airport led to Kayleigh's Wee Stars and We Too! being appointed following the charities submitting a joint bid last year.
Kayleigh's Wee Stars provides support to families where there is a child with a terminal illness through providing financial grants. Many families face increasing costs and unpaid time off work when caring for a terminally ill child.
So, the basic purpose of each grant is to ease the financial burden on families during what is already an impossible situation so they can spend time with their child without the worry of money and make precious memories together.
We Too! is a customer driven organisation empowering families of children with life-long, predominately hidden disabilities, such as Autism, ADHD, Tourette's, Epilepsy by providing a free, quarterly "What's On" Guide for families, peer support, a monthly children's club and a school holiday programme as well as bespoke ASN/Customer Service Training to other organisations to help them host Relaxed/Sensory Adapted Sessions in the community".
The airport has already carried out a number of events to raise money for the charities including its Runway Run, Bake Off and raffles. Around £35,000 has been raised by Aberdeen International Airport in 2022 for the charities.