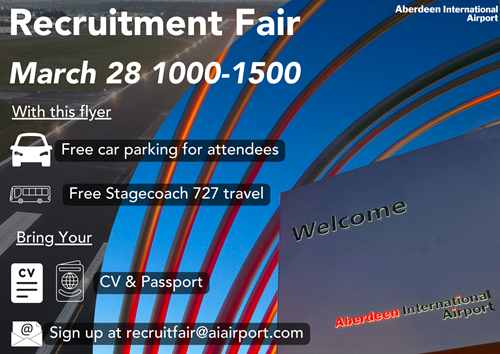 Aberdeen International Airport will host a recruitment fair on Tuesday, March 28 with more than 100 roles up for grabs.
Nearly 30 Companies based across the airport's campus will be represented at the event, which will be held in the main terminal between 10am and 3pm.
Recruitment teams from a diverse range of airport-based or associated partner companies including ground handler Dalcross, security specialists ICTS, facilities management partner ABM, catering specialists The Restaurant Group and Select Service Partners will be on hand to discuss full-time, part-time and seasonal employment opportunities.
Scotland's airline Loganair will also be in attendance to recruit for a range of positions.
A diverse range of job opportunities is available across the airport including security, retail, facilities management, catering and ground handling.
Mark Beveridge, Operations Director at Aberdeen International Airport, said: "It is a unique and special work environment and right now there are so many opportunities available to you to develop a career in the aviation industry.
"I would encourage anyone looking to join the industry to come along on Tuesday, March 28 to find about some of the fantastic jobs on offer at Aberdeen International Airport in 2023."
Richard Thomson, MP for Gordon which includes Aberdeen International Airport, said: "This is a great opportunity for anyone looking for a career in aviation and I'm pleased the airport has taken this initiative.  With over 100 jobs available, the Aberdeen International Airport Jobs Fair will be an important event for the local economy, particularly given the role the airport plays in helping to drive the North-east economy." 
Representatives from DWP will also be present at the Recruitment Fair to offer support and advice, while translators will also be on hand to support jobseekers.
Those attending should bring with them an up-to-date CV and valid ID such as a passport or driving license. Given the security requirements involved in working at an airport, many of the roles on offer will require a full five-year checkable history. 
Complimentary parking will also be available on the day in the airport's multi-storey car park for members of the public in attendance and will be validated on departure.
To register your interest in the Aberdeen International Airport Recruitment Fair email [email protected]