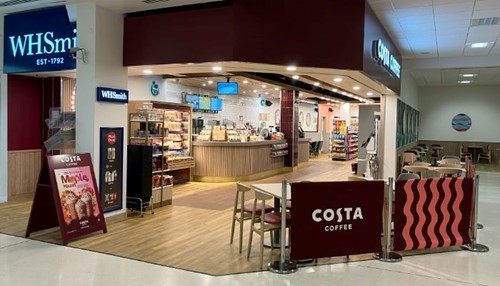 A new WHSmith and Costa Coffee shared space store has opened at Aberdeen International Airport, providing passengers with more choice and convenience for refreshments and travel essentials.
The new store opened yesterday (September 4) landside at the north-east's major transport hub and will be operated by WHSmith.
The unit at Aberdeen International Airport was previously run as a café pre-pandemic and became the terminal's temporary Covid Testing Centre for passengers who required testing for arriving and departing the country.
The new store is the first within a UK airport to combine a franchise operated Costa Coffee café and WHSmith, offering great coffee and a welcome space to relax with the convenience of being able to shop news, books and travel essentials for your journey. Around 10 jobs have been created with the store's opening.
Emma Small, Retail Account Manager at Aberdeen International Airport, said: "We know both staff and passengers loved having a café available before security and we are delighted to open the new Costa Coffee.
"Working with our business partners we always wanted to bring a café and retail offer back to this spot after it was previously used as a Covid Testing Centre."
Spencer Sheen, Business Development Director, WHSmith Travel, commented: "This is an exciting store opening for us, our first hybrid WHSmith and Costa Coffee store in an airport. Combining our offer in this shared space allows us to provide even greater convenience for passengers travelling through Aberdeen International Airport so they can start their journey with a relaxing beverage and pick up their travel essentials with ease. The store will also be a great place to meet arriving friends or family. We're looking forward to welcoming customers to the new store."