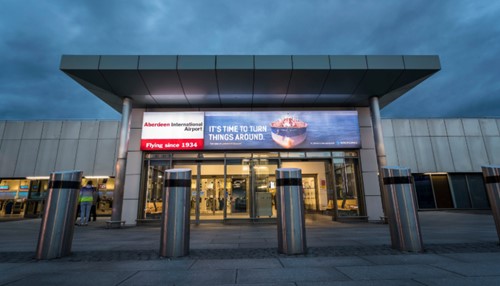 Aberdeen International Airport has been shortlisted for 'Airport of the Year' at the Scottish Transport Awards.
Supported by the Scottish Government, the annual Scottish Transport Awards is now in its 18th year and celebrates the successes of transport projects across the country.
Winners of the awards are scheduled to be announced in September.
Aberdeen International Airport has been shortlisted in four categories including Scottish Airport of the Year.
It follows the completion of the impressive £20 million terminal transformation project which was the largest development in the airport's proud history.
It has led to the terminal growing its footprint by over 50% with many of its facilities significantly improved.
The Digital Twin project, an online platform which creates a model of the baggage screening system and can be interacted with through virtual reality is also up for the Excellence in Technology and Innovation category.
The partnership between Aberdeen International Airport and the Canine Concern Scotland Trust for the popular Canine Crew, already an award winning experience, has been shortlisted in the Transport Team/ Partnership of the Year.
The project is designed to reduce anxiety associated with travelling through interaction with therapy dogs and has now been internationally acknowledged as industry leading.
Aberdeen International Airport is also up for the Excellence in Transport Accessibility for its special assistance services offered and engagement programme AccessABZ.
Roger Hunt, interim managing director of Aberdeen International Airport, said: "To be nominated across a broad spectrum of categories highlights the significant efforts that have been placed across our really diverse business, in ensuring that we constantly focus on enhancing the customer experience.
"We are delighted that the hard work of the AIA team, along with that of our partners has been recognised by the Scottish Transport Awards in no fewer than 4 categories.
"It is particularly pleasing to have been shortlisted during what continues to be a really challenging period for our airport as we respond to the impact of the pandemic."
Aberdeen International Airport has introduced a series of health measures to provide a safe environment for staff and passengers as further services resume.
Passengers travelling through the airport must come prepared with their own facial coverings whilst all staff will be provided with personal protective equipment (PPE), including face masks. Protective screens have been installed in key areas, including the check-in and security halls, and passengers will be asked to observe safe, physical distancing wherever possible.
The airport has also enhanced its already thorough cleaning regimes with a specific focus on the regular disinfecting of all hard surfaces.
To find out more about the enhanced measures in place at Aberdeen International Airport visit: https://www.aberdeenairport.com/coronavirus/.
For further information, please contact:
Lee McCann on 01224 725757 or [email protected]
Enhanced health measures introduced at Aberdeen International Airport include:
The use of electrostatic fogging machines which disinfect surfaces within two minutes.
Passenger touchpoints, including security trays, are being treated with an antimicrobial product which kills germs and lasts for up to 30 days on surfaces. It has been tested to be more than 99.99% effective against COVID-19. 
Self-cleaning stations for trollies have been set-up in baggage halls and hand sanitiser dispensers have been installed throughout the terminals.
Floor markers are in place across the terminals to help passengers physically distance where it is possible to do so.
Staff have received training on how to protect customers and colleagues against COVID-19.
Clear signage is in place advising of the measures.
Anyone who is displaying Coronavirus symptoms is being asked not to travel to the airports.
Aberdeen International Airport
Aberdeen International Airport is the north-east of Scotland's major transport hub and is a vital economic driver for the region, contributing more than £110 million a year to the local economy. It is the gateway to Europe's energy capital and is Europe's busiest commercial heliport. Aberdeen International Airport supports 3,400 jobs across the north-east of Scotland.
A full list of routes is available at https://www.aberdeenairport.com/flight-information/destinations/get-ready-to-fly/?cat=19418