Aer Lingus is the flag carrier airline of Ireland and the second-largest airline in Ireland. Founded by the Irish government, it was privatised between 2006 and 2015 and it is now a wholly owned subsidiary of International Airlines Group (IAG).
Aer Lingus Destinations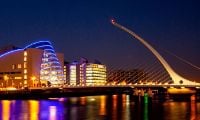 Aer Lingus Aberdeen Airport
Airport Services and Facilities
Check out the services and facilities available at Aberdeen Airport before your Aer Lingus flight
Learn More
Book Airport Parking
Book your airport parking online in advance to save both time and money before your Aer Lingus flight
Book Now
Airport Lounge
Enjoy panoramic runway views and a taste of the best food and drink options that Aberdeenshire has to offer.
Book Lounge Access
Cabin Baggage
Aer Lingus Baggage Allowances
There is a 7kg limit per passenger for carry-on baggage, which must be stored in the overhead locker on Aer Lingus Regional flights (operated by Emerald Airlines), subject to availability. A small personal item (handbag or laptop bag) is also included and must be stowed under the seat in front of you.
1 x 7kg Carry-on Bag Per Passenger
Maximum weight: 7kg (15lb)
Maximum Size;
- Height: 48cm (18.5")
- Width: 33cm (13")
- Depth: 20cm (8")
1x Small Personal Item Per Passenger
(small handbag, laptop bag, baby changing bag)
Maximum Size;
- Height: 25cm (18.5")
- Width: 33cm (13")
- Depth: 20cm (8")
Learn More
Need to get in touch with Aer Lingus?
Contact Aer Lingus
Please see Aer Lingus Website for detailed contact information.
International Code: EI
Departs From: Terminal 1